STEMCELL Technologies Signs Exclusive License to Commercialize Human Pluripotent Stem Cell-Derived Kidney Organoid Culture System
STEMCELL Technologies has today announced that they have signed an exclusive license agreement with Brigham and Women's Hospital for rights to commercialize technologies for the generation of human pluripotent stem cell-derived kidney organoids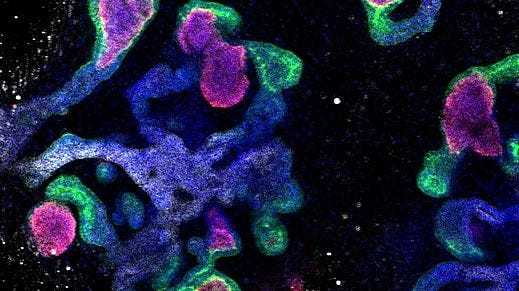 VANCOUVER, BRITISH COLUMBIA, September 25, 2018 -
STEMCELL Technologies
has today announced that they have signed an exclusive license agreement with Brigham and Women's Hospital for rights to commercialize technologies for the generation of human pluripotent stem cell-derived kidney organoids.
This innovative technology, developed by Drs. Benjamin S. Freedman when he was at Brigham and Women's Hospital and Joseph V. Bonventre (Chief of the Division of Renal Medicine and Chief of the Engineering in Medicine Division at Brigham and Women's Hospital), enables the growth of organoids, or mini-organs, that recapitulate key characteristics of renal development and physiology in vitro. These organoids provide a reproducible and versatile framework for modeling renal physiology, injury and disease at distinct developmental stages.
Dr. Freedman, currently an Assistant Professor, Medicine/Nephrology at the University of Washington Institute for Stem Cell & Regenerative Medicine stated that "organoids are powerful research tools, but currently require specialized knowledge and skills to implement. Establishing a standardized kit for kidney organoid differentiation will make it much easier for many laboratories to adopt this exciting new technology. This will accelerate the pace of organoid research and enable it to reach its full potential for biomedicine. As an inventor, I am especially pleased that this standardization effort is being led by STEMCELL, which is a world-renowned leader in providing high-quality, cutting-edge products to the stem cell research community."
Dr. Allen Eaves, STEMCELL's President and CEO, commented that "STEMCELL is thrilled to commercialize such an exciting and vital technology. This partnership will enable us to provide a robust 3D culture to facilitate kidney research and the development of regenerative medicine in the field."
Contact -
STEMCELL Technologies
Masako Adachi, Senior Business Development Officer
masako.adachi@stemcell.com
About STEMCELL Technologies
As Scientists Helping Scientists™, STEMCELL Technologies is committed to providing high-quality cell culture media, cell isolation products, accessory reagents and services for life science research. Driven by science and a passion for quality, STEMCELL Technologies offers over 2500 products designed to support the basic to translational research continuum. Visit
www.stemcell.com
.